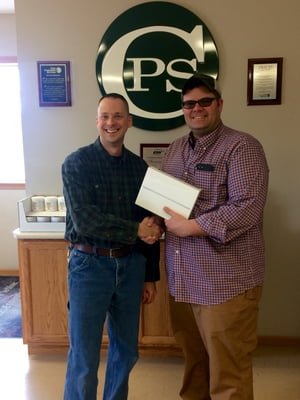 Congratulations to grower Michael Brier, the winner of an iPad for attending our fall webinar, "Introducing the New Titan XC."
Michael is a corn and soybean farmer who uses conservation practices (including cover crops and no-till) on his farm in Eastern Indiana. He is pictured here with Jason Maddock, Operations Manager at Crop Production Services in Brookville, IN.
Michael's name was drawn from a list of the growers who attended the fall webinar. Will your name be next? Register for our upcoming spring soybean webinar and find out!
Not only will attendees hear firsthand about ways to enhance soybean nutrition and yield, but we'll also award one participant a great prize as a "thank you" for attending.
You can also stay tuned for upcoming webinars by signing up for updates from Agricen.