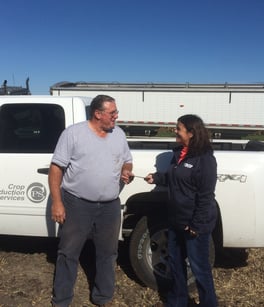 Congratulations to the growers who participated in two of this year's most recent webinars and won!
Grower Carey Burklund of Mount Olive, Illinois, is the recipient of a $500 American Express gift card for attending our webinar, "A New Perspective on Soybean Yield Improvement." The webinar focused on soybean nutritional needs and how using Extract PBA for nutrient release can contribute to greater yield opportunities.
Carey is pictured here receiving his gift card from Therese Wyman, Manager of the Crop Production Services (CPS) farm center in Paxton, Illinois.
Our other winner was grower Jerry Huffman of Greene Farm Management in Dunlap, Illinois.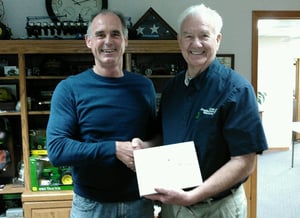 Jerry is a customer of the CPS location at Onarga, Illinois, and was awarded an iPad for attending "How to Make Your Fall Fertilizer Dollars Go Farther," a webinar focused on how to maximize the efficiency of fall dry fertilizer applications, particularly by incorporating Titan XC into the application.
Jerry is pictured here receiving his iPad from Glenn Mogged of the CPS branch in Onarga.
A big "thank you" to Carey, Jerry and all of those who attended our webinars this year!
Stay tuned for upcoming webinars by signing up for updates from Agricen.